Grinding Wheel Dresser System
Precision Wheel Balancing right on the Ex80, Provides for finer edges on critical corners!
Why is Ex80 the only choice?
Full HD resolution digital camera, "AZP" Automated Zoom and Slides for effortless view control.  Displayed on a 32" LED Screen.
New Optional Soft Axis (Swivel Mode - replaces swivel under dressing wheel spindle and does much more) allows for dressing dish and radii on wheels next to each other in a wheel pack 
​Click for more info.
(you won't find this anywhere else). 
4" Diameter Suction tube
runs right up thru the Axle for superior Dust removal. NE​W  for 2018 Special high flow back light  with Super Bright Built in LED System with automatic wiper system to keep your light clean and Bright. (you won't find this anywhere else.)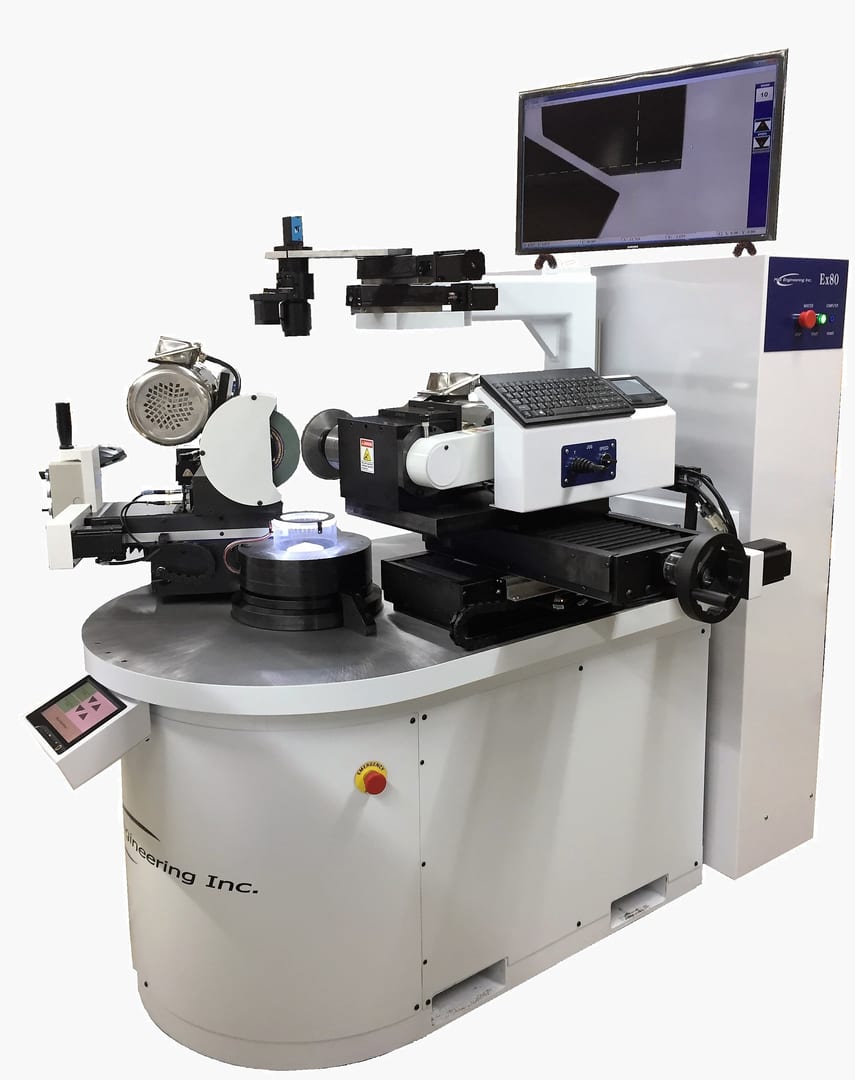 ExVision 2016 HD Software & Ex Control 2019 Software
with new features  
     Only available on Ex80.
​Automated inside dressing between wheels in a wheel pack. (Standard)
Local Spindle and Motion Control Station moves with the operator for ultimate ergonomics.
Local spindle control Start/Stop and change speeds from the operator station.
Local one touch table control flip a switch to set stops and go!
Local one touch jog control for setting wheel diameter position.
Super Precision Quick Change Spindle System or High Precision Fixed Spindle System. Durable Roller Bearing spindles (you won't find anywhere else) in many choices to suit your needs. Spindle locks for safe easy wheel changes and sensors to prevent running with lock set. Click for more info.
All Axes are linear rail and preloaded precision ball screw driven. for dependability and stiffness.
Special Digital Closed Loop Spindle Control system (you won't find anywhere else). Provides optimal dressing conditions. 
Super Rigid High Precision
 280mm Diameter Axle Bearing for unparalleled Stiffness. (Ask our competitor what size bearings they use.)
2" Thick Solid Steel welded construction base. Extra Thick steel weldment base.
Integrated Long Life Cycle Industrial Computer, with solid state hard drive for long dependable operation.
PC based Digital Servo Controller System controls all axes and allows for Simple one touch machine control that makes it simple to do difficult jobs.
Built in cabinet cooling system keeps control system running cool and clean.
Built in diagnostic system allows easy access to sensor inputs and other functions, if a sensor or other component fails Ex80 will tell you.
Modular connection system for sensors and motors, if a component fails you can simply plug a new one in, no terminal wiring required.
Built in lifting tubes for safe lift truck transporting.
Remote Software support, we can log in to your machine and make adjustments, fix problems or show you how to perform operations. All you need is access to the internet.
We have been hard at work updating  Ex80 for 2019. We have added additional operator safety features while maintaining ergonomics for the operator. See the items listed below for more details.
    Hold to Run Feature - Ex80 now has a Hold to Run switch (Located at the top of the Handle used to swing the C Axis) The Operator must have the "Hold To Run" switch depressed in order to start the Spindles. If at any time during the Operator released this button the spindles will stop.
    Local Controls - Spindle and Axis controls have been redesigned and relocated. This means now the Spindle Controls as well as the Axis controls are located on the operator station. This provides easy access to all of the controls needed during Wheel Truing.
    Optional Work Enclosure - A self opening and closing work enclosure can be added as an option. This option allows for isolation of the operator from the work.  The Enclosure when opened allows easly access for machine setup with a generous opening for the Operator. The enclosure is interlocked to the spindle controls to prevent running the spindles while the enclosure is opened. In combination with the "Hold To Run" Feature the work enclosure provides more isolation of the operator from the work.